Become a SOFT4RealEstate solution partner
Meet your clients' needs delivering advanced property management solution.
SOFT4 as a Partner
We look at our partners as an extension of our team, playing a significant role in building an integration between Microsoft Dynamics 365 Business Central (NAV) and a vertical industry solution. With this goal in mind, we try to create a relationship with our partners, draw a common picture about where we want to be, and achieve it in the best feasible way together.
Microsoft encourages partners to go vertical and sell add-on solutions. However, some partners find it difficult to develop a solution that meets the client's industry and its needs due to a lack of knowledge, investment or human resources.
We have been improving the SOFT4RealEstate solution for more than 10 years. We know the challenges and needs of this industry. Our solution is focused on commercial property management, and it works to empower businesses and increase work performance every single day.
You have the opportunity to learn more about the solution and offer it to your customers. Become a partner and enjoy significant margins.
Reasons to partner up with us:
Market potential
There are a lot of prospects in your region who are searching for management methods and solutions that optimize every possible process.
Since they usually have either large spaces or massive numbers of properties to manage, systemic and digital solutions are a must-have.
It takes a lot of time to complete property management tasks manually. Without a system, those companies waste time on tasks that can be automated.
Complex SOFT4 team
(marketing, sales, consultants support)
Our partners are part of our community. We take care of the first steps by presenting the solutions and the partner program, and then we help with marketing and sales training. Our consultants, with many years of expertise, will help you learn the intricacies of these solutions, so you will never be left on your own.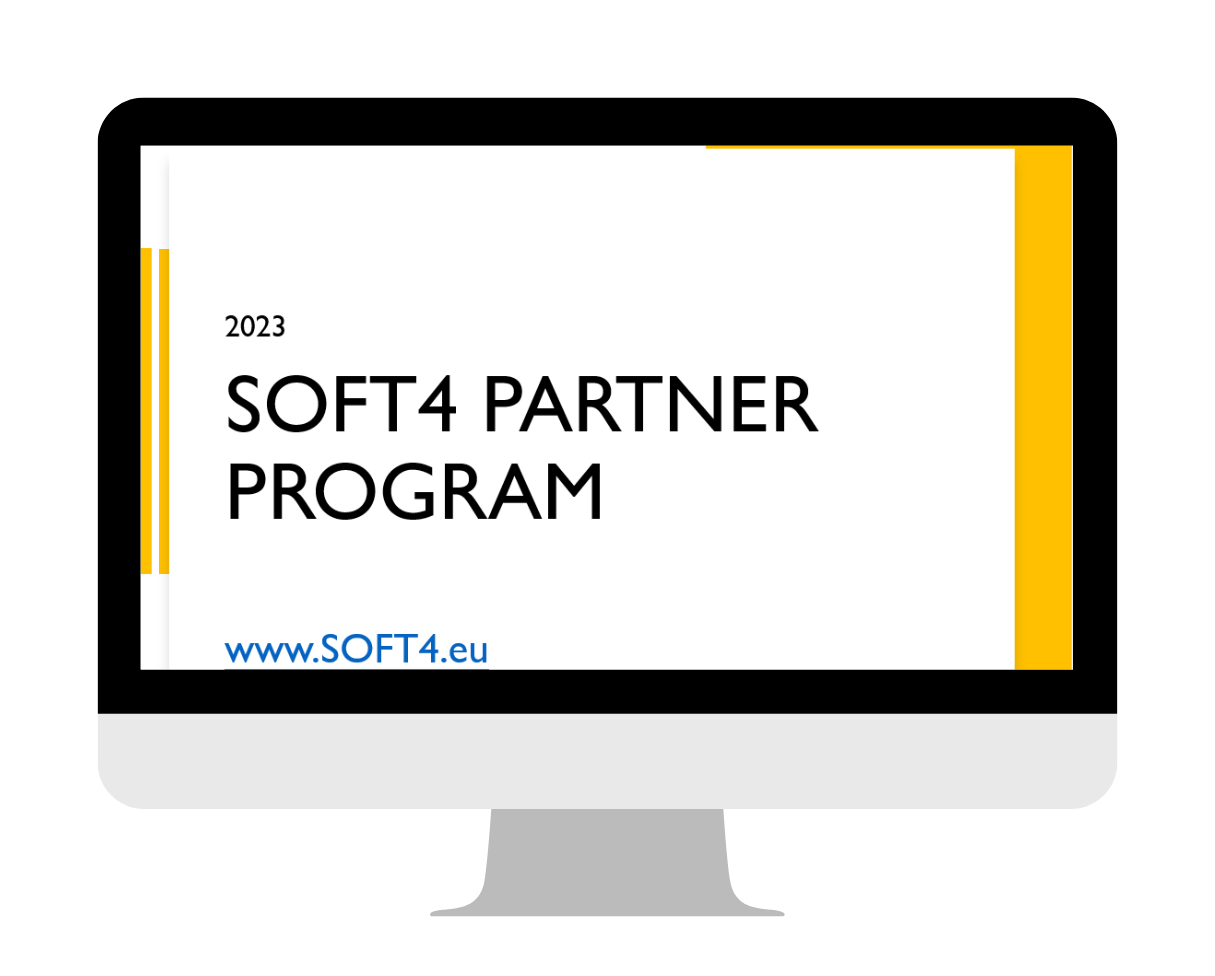 PARTNERS AROUND THE WORLD
What our partners say about us:
The SOFT4 solution for Microsoft Dynamics 365 Business Central address all vital processes for customers in the Real Estate and Property Management industry, providing an all-in-one solution and a single source of truth. Customers see great value in the Microsoft Dynamics 365 platform combined with the deep, vertical features of Soft4. The solution help automate most common processes within Real Estate and Property Management, and empower users with access to real-time reports and analysis.
At Admiral Consulting Group, we are honored to partner with SOFT4 to deliver vertical market solutions for Microsoft Dynamics NAV. Simply put, it is a pleasure to work with a such great products and people. From a robust lead generation program to presales and implementation support, our partnership with SOFT4 is a driving force for new business at our organization.
SOFT4 has an experienced team for both business development and software development. We are reselling their SOFT4Leasing and SOFT4RealEstate solutions, which are both excellent solutions for Microsoft Dynamics NAV. Their team has supported us all the way and helped make our partnership a success. We are happy to recommend them to prospective partners.
All the people from SOFT4, every person that I've talked to from marketing to email and everything, are very nice and knowledgeable. I made some suggestions that some other ISVs that offer similar services said do not make sense and that I don't want to do that. And it makes it more difficult to sell. So I made some suggestions and SOFT4 instituted some of those edits, which makes it easier to sell, and easier for the customer to understand or the prospect to understand in sales.
DataposIT was looking for a real estate solution for one of our clients. We settled on Soft4RealEstate as it met all of the client's requirements. To be able to implement and support the Soft4RealEstate solution, the team enrolled in a training program that Softera was offering. The trainer was knowledgeable and articulate, making it simple for the consultants to follow. During the training session, she covered every aspect of the software and addressed our queries satisfactorily. As a result, the consultants successfully deployed the solution, and the client's expectations were met.
The experience working with SOFT4 team in general is very good! Personal relationship is what I like the most working with SOFT4 add-ons and people!
Become a partner!